So where did I leave off in this tale? The dress…oh yeah, the dress. Well, when I arrived at my mom's house just 3 days before my reunion, the dress hadn't arrived, despite my having ordered it 12 days earlier. I checked the order receipt and saw that it said I was to have received a shipping confirmation from FedEx when the dress was shipped…which I had never received. I was in a bit of a panic and called the 800 number for the store. I explained that my event was 3 days away and I didn't even know if the dress was going to fit me. Katie the customer service rep calmed me down, explaining that she would check into it and not to worry—if it hadn't been shipped yet she would overnight it to me.
Katie called me back 15 minutes later and said, "It's on today's FedEx truck." Yay! The box arrived as promised, I pulled it out and nervously tried it on…and it fit like it was tailored for me. Yay!! All that working out had paid off, for a change.
The reunion was held on Saturday, September 6 at a country club in Zion, IL. The night before, I stayed with my friends Adam and Martina in Chicago. Martina was my secret weapon, since she is a makeup artist and I need all the help I could get in that department. We woke up the next morning and went to get our hair did. Afterward, she got out her trowels and sandblasters and went to work on my face. I don't know how she did it, but she managed to make my not-sleeping self look all glowy and (dare I say it?) pretty. I've said it before and I'll say it again: Martina is a multi-talented, beautiful, intelligent woman and I'm so relieved she loves me.
When I was all ready to go (but not in the dress yet, duh!), I hopped in the car and drove across town to pick up my friend Scott, whom I'd harassed for months about attending the reunion. We drove to my friend Amy's parents' house in Winthrop Harbor to get dressed and head to the reunion together along with my other friend, Jerry. The window controls in my mom's car are in the center console, so during the hour-or-so-long drive, Scott kept unexpectedly rolling up my window, making my ears pop in the process. It was just like being in High School again and hanging out with the annoying prankster. I wish the "child lock" feature had occurred to me. The more things change….
Getting ready at Amy's parents' house was a strange, time-traveling experience that transported me back to taking pictures with my dates before the prom. I half-expected her parents to pop out and give us a lecture about not drinking peppermint schnapps from a flask while standing outside the gymnasium or letting the boys go too far with us.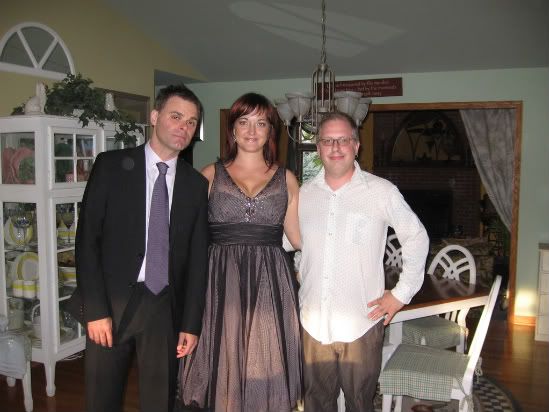 Here I am flanked by two of my favorite people in the world, Scott and Jerry.

I made Scott laugh by jumping up and down, hugging myself, and saying, "I feel like a princess!" That's one of the things I kind of wish I hadn't done, but I was absolutely delirious with happiness to be with these three people. I mean, look at them. I have loved these people for most of my life. How many things in your life can you look at and say, I loved that when I was 13 and I STILL love it just as much? For me, besides Chuck Taylors, these old friends are just about it.

Even as far as the reception desk, Scott continued trying to convince us that there was still time for us to bail out and go to a bar instead.
The shortest version of this story is this: I had a great time. A phenomenal time. I was determined to enjoy myself and I certainly did. My only regret is that I didn't talk enough with people, but that is because I was WAY too busy dancing. After the third time someone asked, "So how did you end up in Mexico," I decided that was it (I'm so bored with myself and that story!) and that I was just going to be a dancing fool all night, and that is what I was. Nearly every photo of me is with sweaty hair and melty makeup (sorry, Martina!). There are some REALLY embarrassing photos of me floating around out there, waving my hands in the air like I just didn't care. Which I didn't. What a fun night and I can't wait for the 30 year reunion. Uh, never mind, I can wait. I forgot about the almost being 50 then thing.

My friend Liane's father and (I think) aunt dropped by to say hello to Liane, Christina, Bonnie, and me. The four of us were very close friends in HS. None of them has aged one little bit, they are even more beautiful now than they were then. I look like a giant getting ready to chomp on their bones in this photo.
Cheri, dancing with her date. Cheri was part of the tireless reunion committee, who took on the monumental task of organizing this event. Well done, reunion committee!!

Jerry, who hardly ever cooperates for a photo. In the background, Scott chatting with Michelle Michel. That's her name, no kidding! In HS, she used to sign her name Michelle², how cool is that? Much cooler than the way I used to use hearts over my "i's" or write little triangles instead of an "a." God, the humiliation.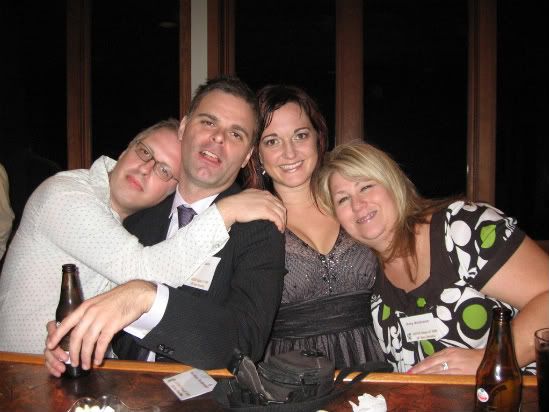 I truly love this photo. We were at the bar, of course.

Scott, with Liane's husband Eric. Eric was NOT an ex-Zee Bee and he was really brave to take us all on at once. Everyone loved him.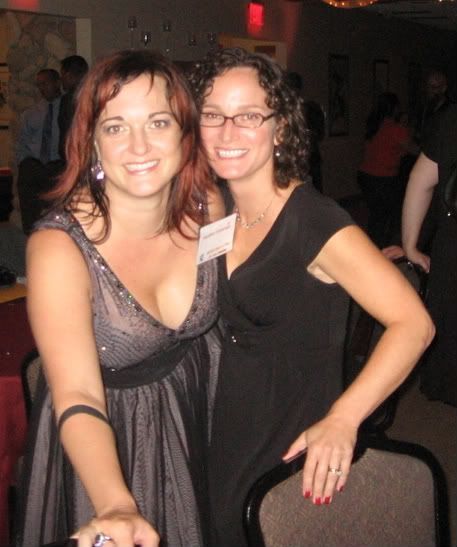 Christina and me. At one point in our lives, you could find us in a car with our other friends, stealing lawn ornaments or mooning passing motorists. There wasn't shit else to do in Zion, trust me.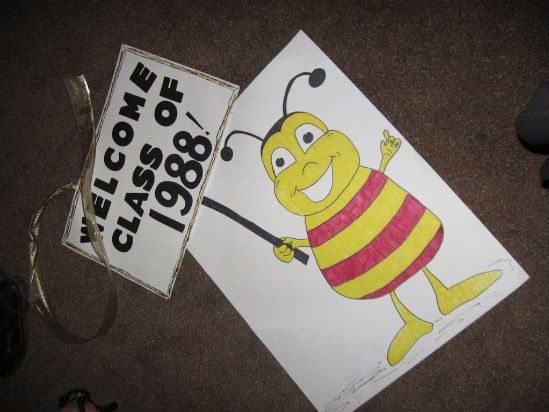 At some point in the evening, Pat Burnett tore this off the wall and wore it like a cape to complement his already-interesting ensemble of kilt and flame tights. He has always been one-of-a-kind.
See, there I am, dancing with another woman's husband. What a "ho."
See what I mean about the "arm in the air" thing?
Here, my friends Darci, Samantha, and Scott pose with Madame Tussaud's wax impression of me. Looks so real! How did they ever capture that drunken look?!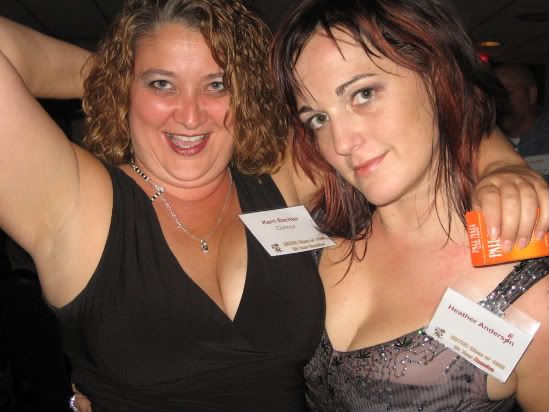 Hold me closer, Sweaty Dancer…!
The DJ was kind of shitty (sorry, committee, I don't blame you) because he didn't focus on the 80s music the way he should have. I felt cheated that Michele Moreno and I couldn't reenact our golden moment of being 15 years old, standing on the metal railings outside of Pearce Campus, singing Bryan Adams's "Heaven" while waiting for our moms to pick us up from cheerleading practice. In the end, we had to find our moments when we could, and I'm quite sure that LaVerne Elliot and I glossed over 20+ years by dancing sweatily to Prince songs while Scott Lucas and Samantha Bishop, our former Homecoming Queen, did shots of Jack Daniels at the bar.
Afterwards, my three dates and I drove to a local bar to meet our other friends, listening to the horrible mix tape my mom had in her car stereo all the way. Scott made me laugh so hard by doing the "revving motorcycle" sounds so enthusiastically during "Leader Of The Pack" that I am not sure I will ever recover. We wound up at Harbor Lights for a few more drinks, but looking back with cold eyes, I can see this was just a prolonging of the inevitable pain of probably not seeing these people again for another 10 more years.
In the end, without the "having to get older" factor, I would be onboard for biannual high school reunions. At least.