One of the reasons I went back to Chicagoland recently was to attend my 20 year High School Reunion. In 1988, I graduated from Zion-Benton Township High School, home of the Fighting Zee-Bees.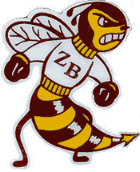 Looking back on my HS days with the benefit of hindsight, I see a confused young girl with little in the way of self-esteem who wanted desperately to fit in, to wear "that hat of belonging." I was a cheerleader even though I felt like I had little in common with the other girls and even if I secretly gravitated toward the poetry and theater crews. I admired the "punk kids" who had the courage to wear whatever they wanted and have cool hairstyles (hey there, Jerry, you listening? Did you know I admired you?). I longed to be different, too, to show myself as a distinct personality…but not too different because that would have been what they call "social suicide" in the movie Mean Girls. I wish I knew then what I know now about individuality and sense of self, but unfortunately that lesson would take years for me to learn.
And so my memories of High School are not great, but not terrible, either. I didn't love it and I didn't hate it. The person I was then is just the person I WAS then. I don't know that girl anymore, but I do have compassion for her (unlike some of my friends, who love to throw my cheerleading/jockiness in my face in a seeming attempt to humiliate me for something that I will NEVER be ashamed of).
I attended my 10 year HS reunion, too, but I made the mistake of drinking a little too much beforehand (in a misguided attempt to endure what I thought would be painful) and didn't really enjoy it. I was determined to have a good time at this one, especially since I was coming from so far away to attend.
I harrassed my three best friends from HS for months in advance, threatening them under pain of death to be my dates. You've already "met" Amy and Scott in previous blogs. Jerry is an artist, check out his work.
Since it's nearly impossible for me to find clothes here that fit me, I ordered this gorgeous dress online at http://www.unique-vintage.com

Front

Back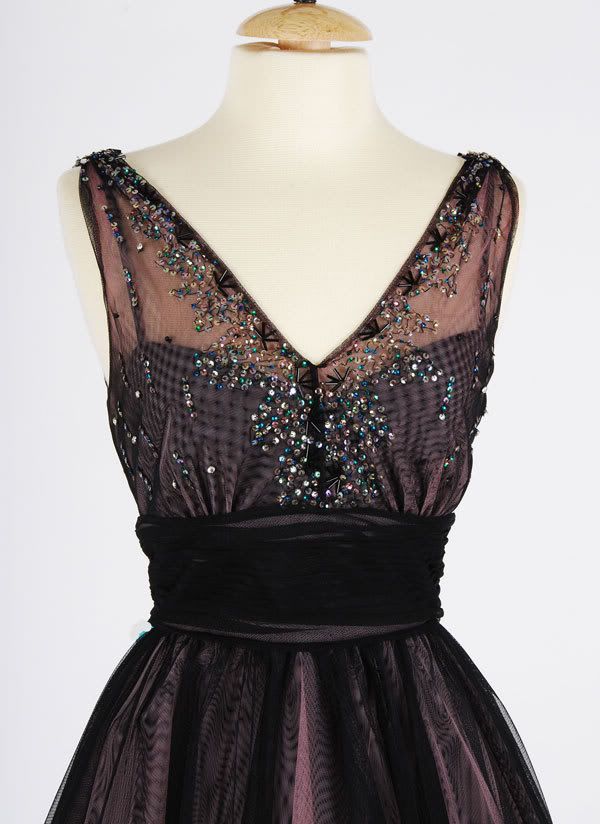 Closeup of bodice
I was nervous, since the dress was a size 10. I'd been working out and losing weight, but size 10? The measurements were right, but could I actually be a size 10 again? Holy crap. I was having it shipped to my mom's house and wouldn't get a chance to try it on until 3 days before the reunion. What if it didn't fit? And what if the shoes I ordered online to go with it didn't fit? Or didn't look right with the dress?
Whatever would I do?