I love Halloween. I'm not kidding, I LOVE it. NO ONE loves Halloween as much as I do. Except maybe my friend Sara, I'll at least acknowledge that her Halloween fervor might begin to approach mine. We wait all year for it to be October, no joke. By November 1st or 2nd, we already know what our costumes for the next year will be. I think you get the picture.
Halloween in Playa del Carmen has grown in popularity every year since I've been here–not just among expatriate locals as might be expected, but among Mexican locals as well. The Halloween thing creeps in, but is still kept totally separate from Day of the Dead observances (which here in PdC seem to be more private, family affairs, apart from the big altars you'll see here and there around town).
This will be my 5th Halloween in PdC. One of my favorite things about living here is that Halloween is actually celebrated ON Halloween, October 31st. Even if that means going out on a Monday or Tuesday. My least favorite thing is how hard it is here to find costumes and accessories. Thrift stores were always my "go-to" spot for ideas, but we don't have thrift stores here. The costume aisles in the stores grow each year, but the favored costumes among Mexicans are traditional "scary" Halloween costumes and the blood/guts stuff isn't my favorite. Often my friends and I avail ourselves of kind "mules" who bring wigs or costumes down for us from the US or Canada. The bright side is that people have to get creative here so you never know what you'll see on Calle 10 on Halloween night.
I'm going to post at least one picture of a Halloween costume every day this month. If you're not a Halloween person, you will be by the time this month is over. Or you'll want to kill me, whichever.
I'll start by posting our costumes for the past 4 Halloweens in Playa del Carmen.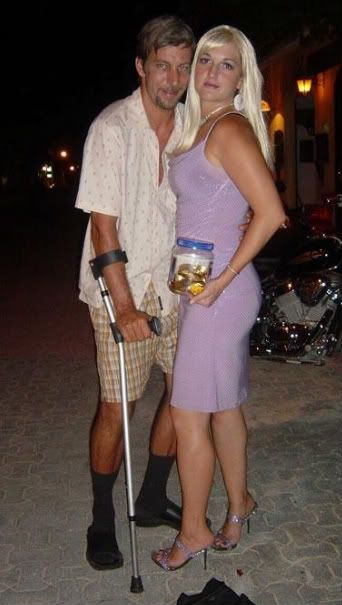 This was our first Halloween here, in 2004. I was unprepared and so just dressed Michael like an old guy and I was his gold-digging, trash trophy wife. It took me forever to find a wig; finally found one at a BRIDAL SHOP in Cancun and it cost almost 50 bucks! I loaned it to my friend later and her dog ate it. I was so pissed.

2005, White Trash. This was one of my favorites because of how easy it was for me to put my costume together. Michael's costume was brought down, but mine came straight out of either Chedraui or my own closet. I got to wear house slippers, too…no killing my feet like I normally do on Halloween. This costume elicited more laughs than I've ever gotten for a costume, it was a fun night. My favorite part of the night had to be when we asked one of our Mexican friends if he knew what we were supposed to be (not knowing if the phenomenon of "white trash" was something that would translate). He looked hard at us, scratched his chin for a second, and said, "Yes! Jerry Springer's guests!"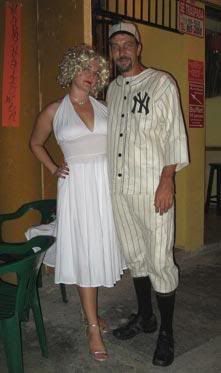 2006, one of my least-creative years. Hey, even a Halloween junkie gets tired sometimes.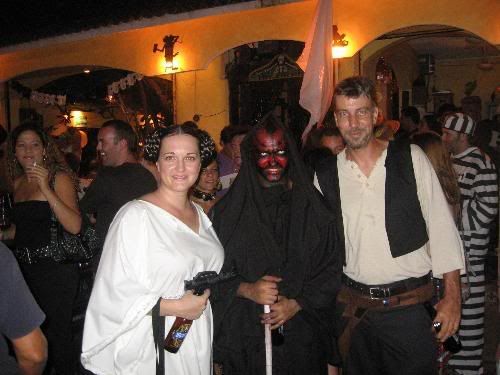 2007, Princess Leia and Han Solo (we didn't know the Darth Maul between us). This costume fulfilled a couple of my childhood fantasies. I'm an intermediate-level Star Wars geek.
More Halloween costumes to come!