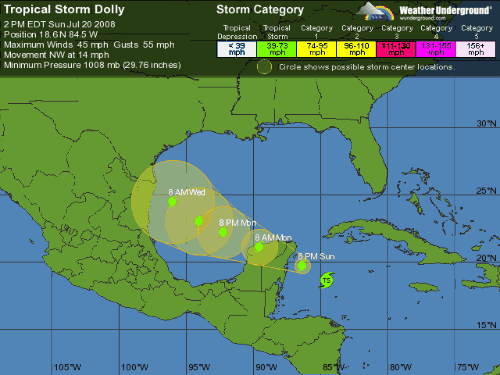 So we've got a tropical storm heading our way. Poor Michael had to go to work on his only day off to put all the patio furniture and "outdoor" stuff inside the houses he manages. Like 50 houses. Arrgh.
I've been pretty casual about it, but about 2 hours ago we had a power surge that caused the loud-as-hell burglar alarm in the beer distributor office across the street to start wailing, and it is CURRENTLY still blaring. I've been listening to it so long now that I've detected two layers of sound that have started sounding like really obnoxious voices: One is saying "Oh-Woot! Oh-Woot! Oh-Woot!" and the other is saying, "Doink! Doink! Doink!" just a beat behind the other. I'm just about ready to cut off my ear and move to the South of France.
People on the forums are chattering a bit, but I guess it's because they're worried about their vacations. For those of us who live here, though…Meh. It's just a tropical storm. I'll put away the stuff in the yard, then head to Mega for wine and beer.
Better get out the flashlights and candles. I also have to think up some topics of conversation, since it looks like Michael and I might end up having to talk to each other tonight. It's likely we will lose power and not have TV. Sigh. Oh, the hardship.
Now one of the voices has started saying, "Cuckoo! Cuckoo! Cuckoo!" OMFG, shut up, shut up, shut up!