Ok, so in some ways I'm a typical chick. When the Sex and The City series ended, I was a bartender in a sports bar, but still broadcast the last episode on nearly every TV, including the big screen, and relegated the whining men to a tiny corner TV to watch their danged "important" sporting event. For once my bar was populated almost exclusively by women and yea verily, it was good.
The show wasn't perfect. Carrie annoyed the hell out of me at times with her stupid puns, massive self-centeredness, and how mean she was to Aidan. Charlotte's fixation on marriage and babies made me uncomfortable, Miranda's brittleness touched a nerve or two, and Samantha, well, she was just so over-the-top in her "sexiness" that it made me cringe. But the show worked for me, the characters were well-developed and the content was pretty groundbreaking for TV fare. Plus, I mean, Chris Noth. Mr. Big was, indeed, Mr. Big.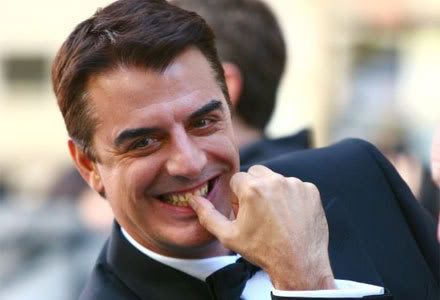 At any rate, I've missed those bitches. So like every other woman in North America, my friends and I had big plans for the release of this movie. Since we knew it might be some time before it arrived in theaters, our plan was to illegally legally download this movie and broadcast it at our local watering hole, where we'd go dressed in the chic-est clothes that poor beach-town girls could rustle up, and drink (of course) cosmopolitans. Unfortunately, a decent illegal legal copy of this movie couldn't be found, so we had to scrap those plans.
All is not lost, however. Sexo en la ciudad is already playing at Centro Maya, so we are going to see it this Wednesday night, June 11. We're meeting at Centro Maya at 6.15 pm, in front of the mall entrance nearest the theater. It's "half-price" day (meaning it's not really half-price, but lower than normal), so please don't be late so we can find enough seats together. Sara and I are still planning to dress up, since we never really get a chance to dress up, then afterward we will head into town for some pink girlie drinks somewhere (maybe at Dirty Martini bar?). I might smuggle a flask in my cleavage, feel free to do the same. I mean, do the same in your own cleavage, not mine. I don't think I can fit more than one flask down there.
Let me know if you plan to come, by emailing me at heatherinparadise[at]hotmail[dot]com or else just give me a call/send a text. See you silly bitches soon!
*edited to add this: Someone please buy me these Manolo Blahnik shoes to wear on Wednesday. Kthnxbai.