My Mexican insurance company's nearest office is in Cancun (grrr…), so I'd been struggling to find time to turn in all of the medical receipts for my leg/cast so I could get reimbursed. Finally, I was able to borrow a car to make the trip. I enticed my BFF Sara to come as navigator with lurid tales of taking her to visit the Blue Store, an unnamed furniture/tzotchke/crap store of mythic proportions. There are those who believe the Blue Store exists in a parallel dimension, able to be found through a magic portal that can be entered only by those who are purest of heart and consumer intentions.
We got the awful insurance stuff out of the way fairly quickly, although I had to drag Sara away from the People magazines in English they miraculously had in the reception area. A single tear rolled down her face as she lovingly relinquished the issue with J.Lo's twins on the cover.
By this time we were starving, and I knew just the place. I haven't been to Cancun very often and the streets are a confusing maze of diagonals, glorietas (traffic circles), and cah-rayzee drivers, so I tend to go only to areas I've visited before. Well, I'd seen a mall once before and knew there was a restaurant there we'd have to visit, a place I'd NEVER eaten at before, either here or in the US.
Wait for it: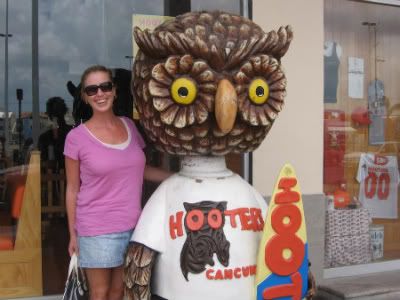 Yes, that's right: we got our groove on at Hooters!! It might sound strange that we were so excited to eat there, but chains can be a real treat living in the land of inconsistent restaurants, something familiar and comfortably, horribly US American. Plus, they have buffalo sauce. I immediately began planning how I could get them to put buffalo sauce on everything I ordered, even my dessert.
Sara and I both had the same thing, grilled chicken breast sandwiches with spicy buffalo sauce and blue cheese dressing on the side, served with chipotle mashed potatoes. With REAL PICKLE slices, people!! I enjoyed mine with a nice tall glass of buffalo sauce, which I drank through a straw. Sara just had a beer, how boring.
No pictures of the food, sorry. My camera was too afraid to come between me and my sandwich.
We did get some pics of the girls for you, however. Tiny, cute little flat-butted ladies. Too bad about the orange pantyhose.
It was a fun experience, and we enjoyed ourselves, but it's probably not something we'll need to do again, and I don't think either of us will ever visit a US location.
After lunch, we headed a bit north to the famed Blue Store. We found the portal without too much trouble and were grateful that we were both admitted without incident. When we walked through the door and saw the two levels crammed full of crap we don't need and can't afford, the sky broke open, rays of sunlight caressed our faces, and a choir of heavenly angels sang the sweetest music we'd ever heard. We were so dazzled, we failed to take any photographs.
Every inch of space in this store is filled with SOMETHING. Aisles are navigated treacherously as you step over cardboard boxes of new stock imported from China. Picture frames, dishware, utensils, candles, artwork, stools, couches, chairs, tables, chandeliers, a whirlpool tub, hideous jewelry, hundreds of spools of ribbon, Buddhas as far as the eye can see…we wept. We keened and beat our breasts. We were so overwhelmed we got the hell out of there as fast as we could.
Sara bought a few things, but it was only on the way home that I realized with shock that I had failed to buy anything. Oh no! This refusal to appease the consumer gods will most likely result in my inability to ever again enter the Blue Store. Shite.
A quick stop at the overpriced Pier One store inside the Sears at Las Americas Mall (where we groaned and touched the multitude of things we want, but can't afford) and we were all shopped out. It takes stamina and a rigid training program to shop the way we used to, and we're both horribly out of shape.
I have to go back to pick up my reimbursement check soon. Sara, start flexing those spending muscles again; once more unto the breach, dear friend.