From time to time in my jaunts across the vast expanse of the internets I come across a hairstyle that I think is cute. I save these hairdo photos in a special folder on my computer and rifle through them occasionally when I'm feeling ugly and bitchy because I rarely get to have my hair "did" anymore (in my old life, I was a salon junkie).
Well, my hair is overgrown and disgusting right now, so I'm dreaming of things I could do with it if I could find the right stylist, the appropriate amount of money, and the willingness to do more maintenance than throwing my gross locks up in a hair clip every day because it's so freaking hot and who even looks at my old ass anymore, anyway.
Love the hairstyle of the girl on the left, with the color of the girl on the right. I cannot imagine all that hair touching me during the summer months here, however, so that's out.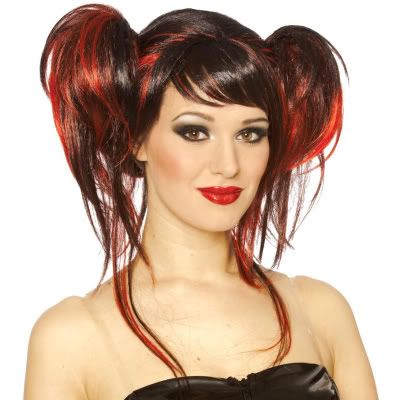 I love this style, but my hair is not nearly long enough, nor is it likely to ever be. I mainly like the bangs and the color.
I'm not about to blow dry and flat iron my hair, so this is posted only for the color.
OMG this one is so frickin' cute. She's just adorable, I want to be her. What do you think, could I do this?
LOVE the cut and color…but that blonde blonde blonde would be way too much work to maintain.
Dunno why I think this is so cute, it kind of reminds me of the bad 80s rockers. But in a good way.
Again with the color, the cut not so much.
I love her cute little bangs, but I only dream of having that much curl/body in my hair. She's all pin-uppy and I love it.
Did anyone notice that every single one of the styles I like has bangs? The observant person will realize that this is because I have one of the largest foreheads ever measured on this planet. The observant person who also knows my history will know it's because I still haven't forgotten when Tim Paxton yelled out "Hey Forehead!" to me when I was in the 7th grade and in the middle of a basketball game. It so jarred me that I stepped out of bounds and lost the Westfield Cyclones their possession of the ball. And I have worn bangs ever since.
Bastard.