Last Saturday I attended a bachelorette party for my friend Keersten, who is getting married in Tulum this weekend. I have only just recovered from the hilarity that ensued.
The party was organized by Gabi and hosted by Sabrina, but all 24 or so women who came to the party contributed to probably the most fun I've ever had in Playa del Carmen, or perhaps anywhere. I took 832 billion photos, but I've only included a fraction of those here in the hopes of retaining the interest of all 6 of my readers.
You may notice that all of us are wearing black; we always wear black when one of us willingly crosses over to the Dark Side. Adiós, Keersten. Que le vaya bien! We'll miss you!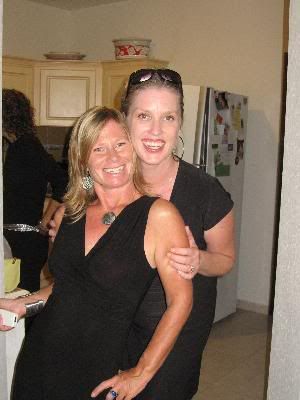 Look how civilized we were at the beginning. Susan and Sara looking lovely.
Kat and Claire making a cocktail at the ridiculously overstocked bar.
Keersten shows up and immediately gets the albatross 'round her neck. Smallest albatross I've ever seen.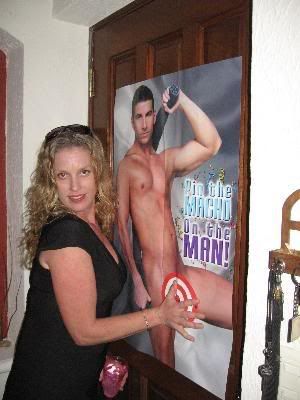 Sara assaults an inanimate object.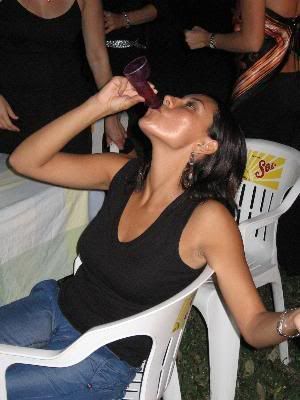 Let the penis shots begin.
Proper, ladylike English poise.
Gabi shows off her German cupping technique as we all howl with laughter.
Keersten is expecting, so didn't drink. I wonder how fun it was to be hanging out with a bunch of screaming, drunk women? She seemed to be having a good time.
Pretty, pretty Debora.
Sara and Pia
Blurry, but practically the only pic of me all night, and I'm trying to lick the poster. *sigh*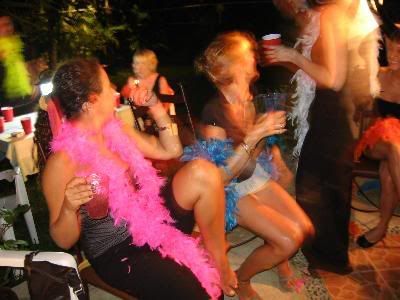 The Bag O' Boas makes its appearance
Then Guess Who shows up.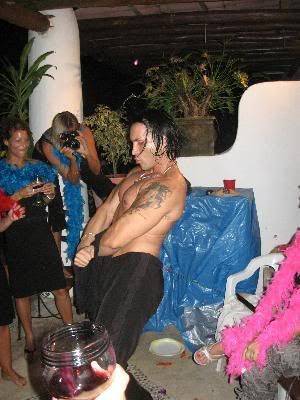 Excuse me, sir, but you seem to have dropped your pants. Sir…sir?
Megan jumped right into my nightmare.
Do you kiss another man's wife with that mouth?!
Sabrina: Gah, he's touching me, he's touching me!
Maria's moves were as hot as his.
That is one. naked. person. in a room full of people he doesn't know. I was gobsmacked.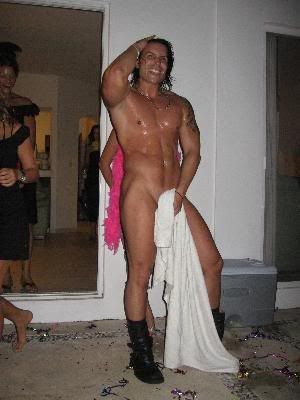 See ya later, whatever your name is!
That was my first time and I have to admit that I'm not a fan of any strippers, male strippers in particular. My ears get hot and I get embarrassed for them. That said, this guy was good looking, if a bit greasy, and we all had a lot of fun screaming and laughing. My favorite part of the entire "stripper" experience, however, was when he went looking for another "victim" and 20 women scattered away from him like cockroaches away from the light.
After all that excitement, Keersten had to be fanned and fed grapes.
Next we headed out to La Ranita, where Pia played "Dancing Queen" for us four times in a row until all other patrons were driven from the bar.
"Having the time of your life"
Next, we decided to go to Coco Maya and REALLY get the party started.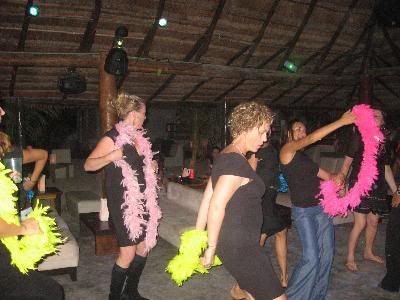 Everyone was watching our sweet moves with envy.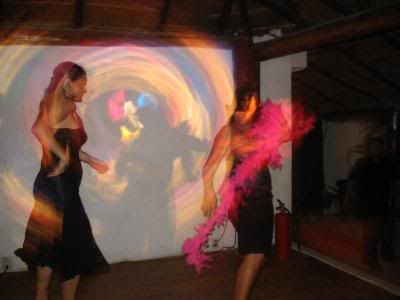 Dutch Eva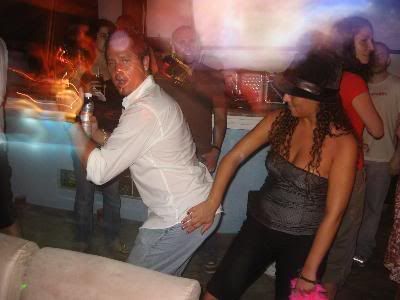 Debora spanking a Very Bad Man
Get it, Girl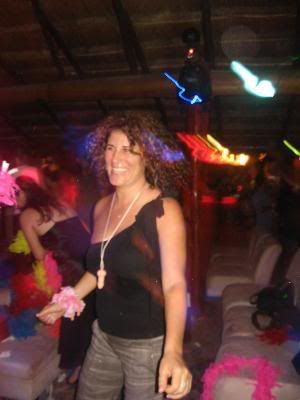 Keersten, still considering us friends.
The hours of the night were getting wee-er and wee-er. I have no idea why I am making a poo smile.
Sabrina, still looking gorgeous past 2 am. This might be why I don't hang out with her all that often.
Since obviously we hadn't had enough, a handful of us headed to Retro.
Anita smooches a handsome gentleman, whose name I did know that night.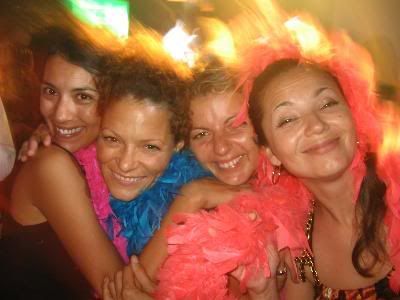 Hey, did you happen to see the most beautiful girls in the world? Oh, that Kat, always pulling out the tired old "Floating Head" trick.

This concludes my brief reporting of the Bachelorette Party to End All Bachelorette Parties. Or at least we can hope this will put a stop to this lawless, barbaric custom. My liver doth protest.