Let me preface this by saying that I have only a few friends, and even fewer from my "old life" in Chicago. At this point, I've been here so long that, understandably, most of those with whom I was extremely close in the "old country" have moved on.It's human nature and totally normal, and it doesn't make me angry or upset me.So that left me totally unprepared for what happened to me over the last few weeks.
First, my old friend, Beth, came down and we had a great time hanging out for a couple of days (I posted about our Isla Mujeres day).Since she was staying in Cancun, however, we didn't get to see nearly as much of each other as I'd have liked.
Immediately after Beth left, one of my old, old friends, Adam, came down with his girlfriend, Martina.Now Adam is a real blast from the past, an ex-roommate and the best friend of my ex-long-term-boyfriend.I hadn't seen or hung out with Adam in about 8 years, since he was one of the many things I lost in the "divorce."
I was initially a little nervous about him coming here, although I was simultaneously excited.When I knew Adam, I was (like him and everyone else I hung out with) a bartender at a live music venue/rock club in Chicago and spent my days sleeping in and my nights working late and then partying hard on days off.We were young kids with plenty of cash and cool haircuts.And lots of black in our wardrobes. It will suffice to say that I never considered myself a "beach girl."
Now I'm a broke old lady with a hair color that can be found in nature, who wears flip flops and stained tank tops everyday.And the beach town "hippie" esthetic creeps in like a cancer until all of a sudden I look in the mirror and see Stevie Fucking Nicks.Michael and I even recently bought a broken down 1974 VW Westfalia camper van that we're going to fix up and actually be seen driving around town in.
So for 10 nights, into my routine, boring life came pale-skinned, tattooed, and beautiful Adam and Martina.The second I hugged Martina for the first time, any fears I had about not being accepted were laid to rest:She gave me a hug like we were family; a real hug, with no perfunctory pats on the back.I was smitten and have remained so since.
Although I was only able to take off one day of work while they were here, we spent a Sunday together and got together several times for dinner.What they did for me was remind me that I live in a beautiful, peaceful place, and that I have to make an effort to enjoy it as much as possible, for as long as my living here lasts.It was a bracing splash of water in the face, a reminder that my life here is not all about waiting in line to pay bills, struggling with immigration issues, or being frustrated with traffic and tourists.
Thank you, Adam and Martina, (and Beth and Leslie, and Dan and Crystal),for the much-needed reminder.
I took Adam and Martina to Tulum.Money Shot #1:
And Money Shot #2:
She is so pretty.And yet, I like her so much.
After Tulum, we went snorkeling in Gran Cenote: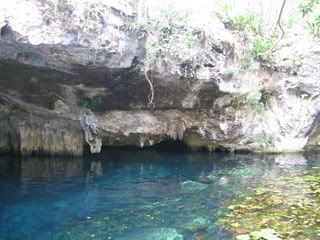 Then, we picked up Irena, Martina's friend from Chicago, and headed to Playa Selva.
The bent palm is hanging in, though barely.
We enjoyed a picnic lunch of Booger Chicken and all the fixin's.
We lazed about in hamacas:
One Sunday, we rented a van and driver and all headed off to do one of our favorite things:hang out on the beach with a cooler full of beer and sandwiches, and do nothing.We went to Turtle Bay in Akumal (which in Mayan apparently means "Place of the Turtle.") Because "Adam Likes Turtles."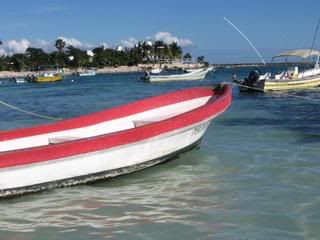 Irena and KC go snorkeling: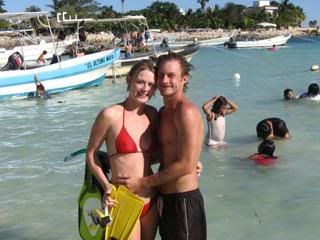 Obviously I had had enough vodka and Agua de Jamaica to kill a burro.Take a look at that crooked horizon: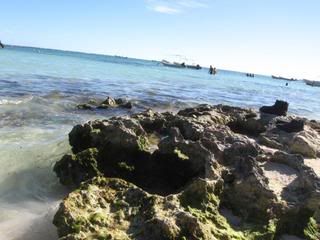 Martina.*sigh*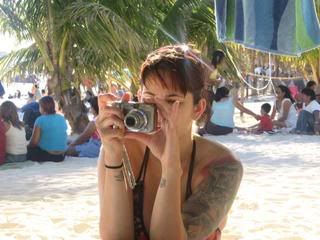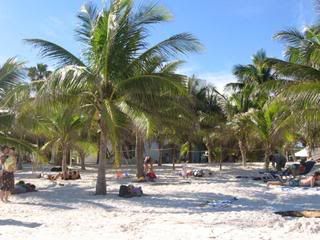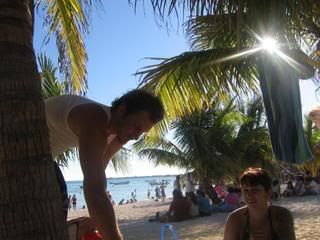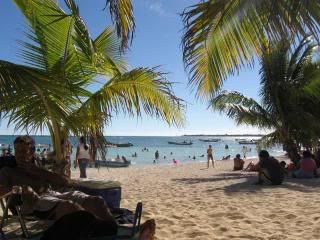 Bullshit, Jesus, those are obviously my footprints!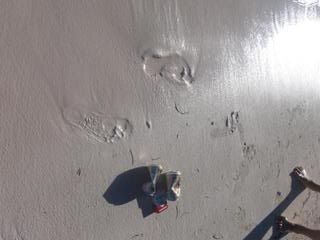 Stupid Bird Cannot Find The Cheeto Poff:
After a long day of eating, drinking, and swimming, we stopped at Cenote Azul to rinse off the sand and salt water: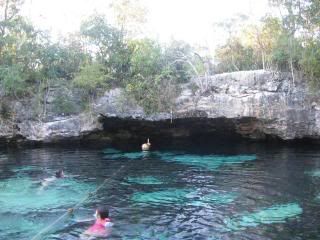 What an incredible day, it has sustained me nigh these 7 days since Martina (and Adam, oh yeah, Adam) left me.
It's the weirdest thing.As soon as she left, the sun went dark, the air turned cold, the Sea dried up, and all the turtles died.
This is what I'm looking at now:
What a difference a week makes.