Yesterday Michael and I mercifully had the day off, so we went to Isla Mujeres with a couple of our friends. Our friends, Beth and Leslie, are in town from Chicago (our hometown) and staying at JW Marriott in the Cancun Hotel Zone. Beth and Leslie took the ferry from the HZ (taxi 120 pesos, Ferry 140 pesos round trip). We took the bus from Playa del Carmen to downtown Cancun (36 pesos), taxi to Puerto Juarez (50 pesos, which was probably still too much), and ferry to Isla (70 pesos round trip). They really soak those poor souls staying in the Hotel Zone, don't they?
An aside: in all my years of traveling to this area and living here, I'd never been to the Cancun HZ before last week. I've been to Cancun dozens of times, but never to the HZ. Can you even believe it? I was a little shocked by it, if truth be told. It didn't look anything the way I imagined it would look and it was not my cup of tea at all. It looked like *insert US vacation destination here.*
About a year and a half ago, Michael and I stayed for 4 glorious, calm days in Isla Mujeres, but it has been a long time since we've been there, so we were excited. The ferry was crowded, full of locals who also had the day off and were going to enjoy a day at the beach.
I just really never get over the Sea here.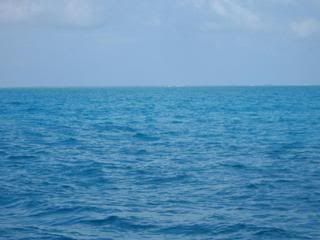 We set up on North beach, I can't even remember the name of the place from which we rented chairs. It was so great, although it was crowded, it was all local people. I've been on crowded beaches plenty of times with drunk tourists being obnoxious, so this was a real treat. I chatted up a family sitting next to us and when they left, they made it a point to come to us to say goodbye and "Happy New Year."
I fell totally in love with this little girl. I mean, look at her little pink sunglasses, earrings, and "done up" hair.
Beth and Leslie wanted to buy some of those stretchy bandana/scarf thingies, so this lady and her sister came down the beach and showed us their wares. It was very sunny and warm, and these Chiapan native costumes are extremely hot, so she sat down to rest while Beth looked over the goods. We forced snacks on them. They were kind enough to allow us to photograph them.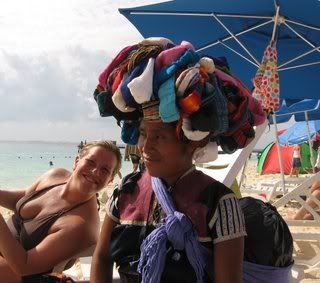 The "older" woman is 22 years old, with 2 children, and one on the way. She said she had only one week to go before she gave birth, and there she was working her tail off selling things on the beach. She has a hard life. Her sister is only 14 years old.
We got some pepitas (sunflower seeds) with chile and lime. Leslie really enjoyed them!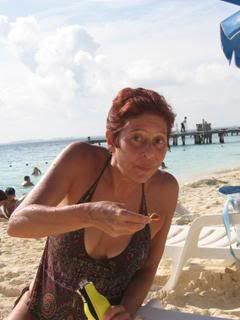 There was a rickety, small wooden platform that people were jumping and diving from. This guy walked right into my photo, after I sat there patiently waiting. D'OH!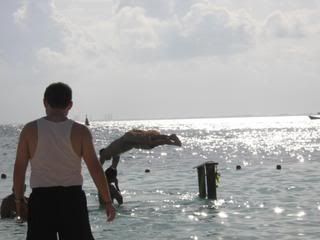 Happened AGAIN! Double D'OH!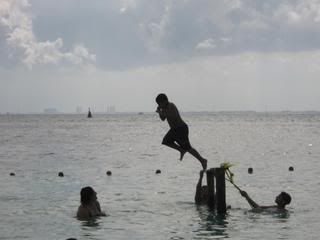 They even let this nervous little girl try it.
OH! Look who it is again!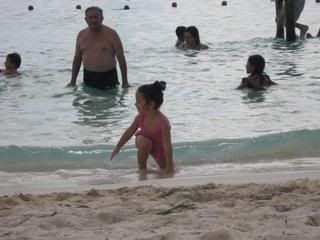 Here she is with her abuelo: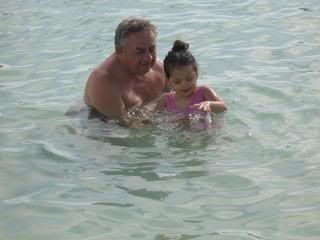 Here is the cutest guy in Christendom laughing at me for my "surreptitious" photo-stalking of the cute little Mexican girl.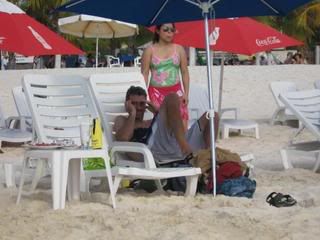 I spared a few photos on some other cute kids.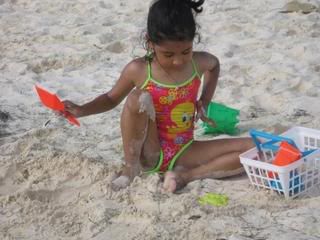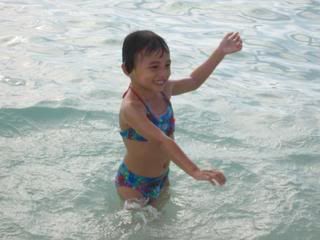 But then I was right back to the princesa. Bye, little cutie!
Ubiquitous sandy toes shot.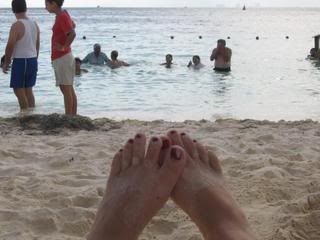 Blurry photo of sweet old couple walking down the beach. The woman didn't walk well, so her husband had just helped her into and out of the water.
Here's Beth!
It was just a lovely day. I managed to get sunburned, even though I stayed under the umbrella most of the day and slathered myself with ridiculous amounts of SPF 30. The perils of my skim-milk skin.
Happy New Year, everyone!